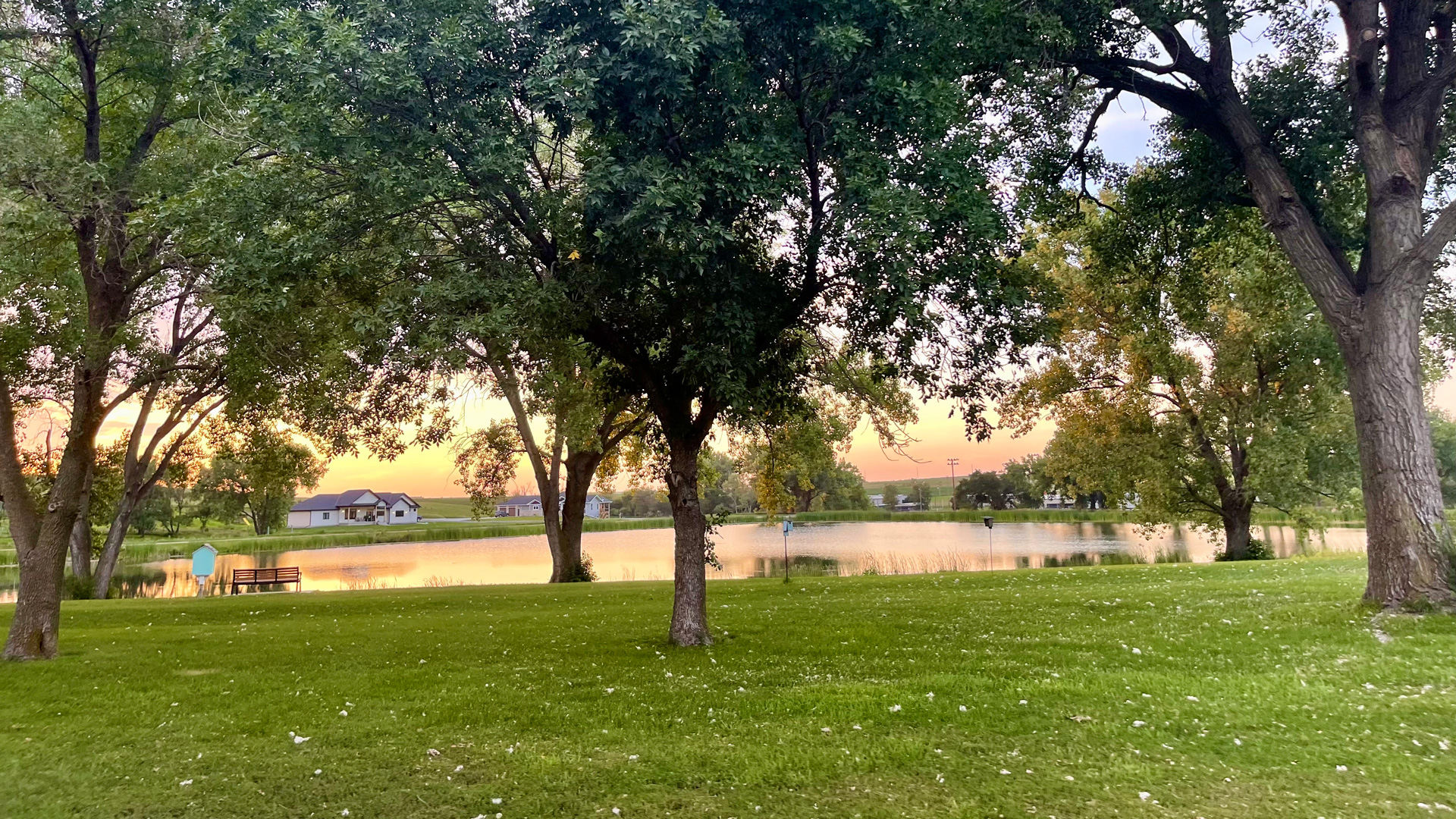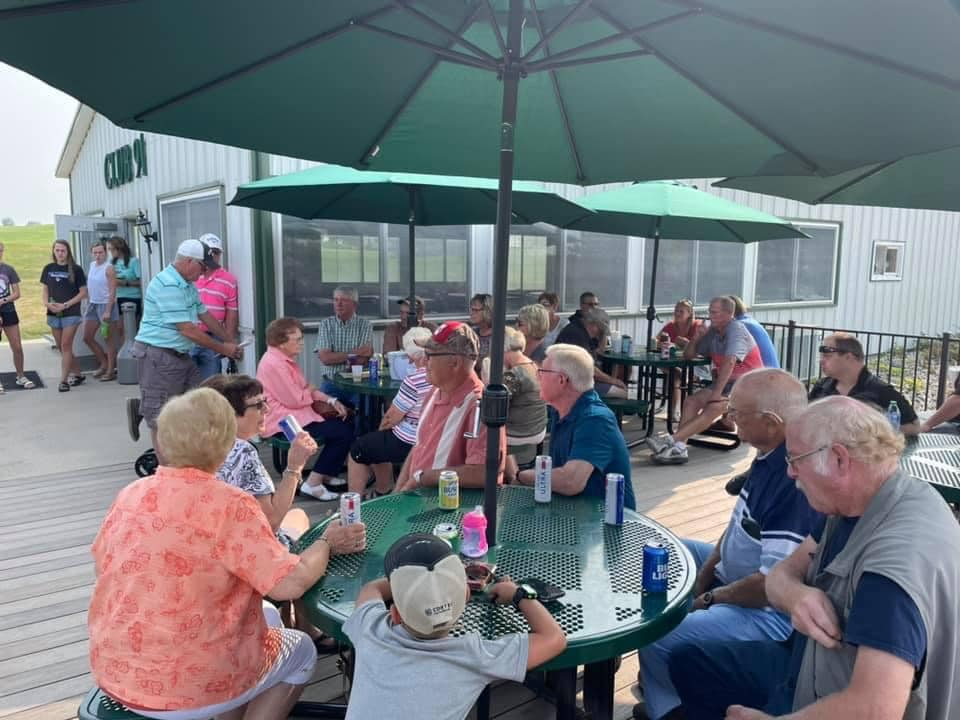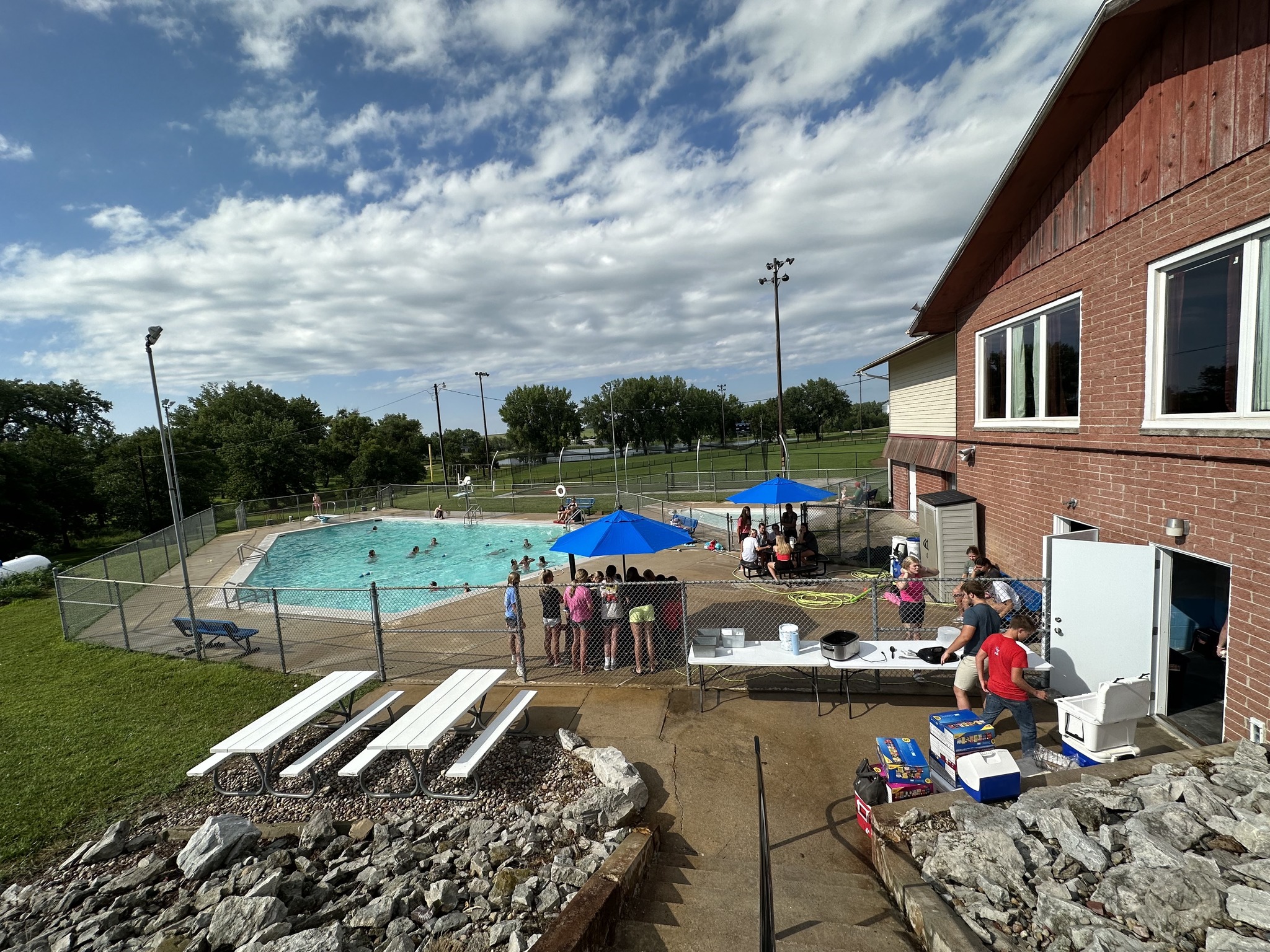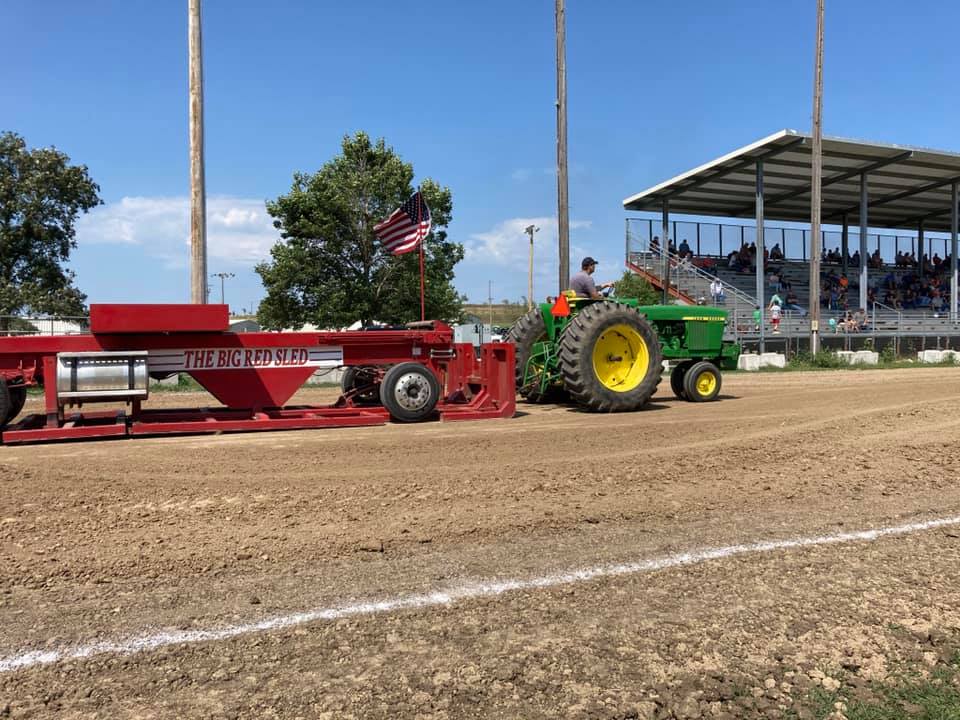 There are two sand volleyball courts located to the east of Centennial Park, right next to the ballfield. During the summer, an adult sand volleyball league is hosted there weekly and a tournament is held towards the end of summer. For more information about the schedule for the league or to sign up a team, consult the Facebook page below or contact Andy Bachman at (402) 860-0568.
The Centennial Park Pool originally opened as a member only pool for those who had a membership at Park Place. Since then, it has become a pool open to the general public. Relaxing by the pool is a great way to escape the summer heat and have fun! The pool ranges in depth from 3 feet to 9 feet. Centennial Park Pool offers a diving board and a separate, shallow baby pool for young children. Below is a link to their Facebook page with updated pricing information and hours from year to year.
  130 Road V, Leigh, NE 68643
In 1967, the project to dig the Centennial Lake (originally called Tri-County Lake) was completed with the help of a massive force of volunteers from communities located in Colfax, Platte, and Stanton counties. This small lake is a great place to kayak, fish, and walk. 
The rules at Centennial Lake are as follows:
Bass length: 18"

Limit 2 bass per day

Please practice catch and release

No live minnows

No swimming
The Leigh ballfield is a social hub during the summer time. During the weekdays, there are youth softball, baseball, and T-Ball games and practices. If you are interested in signing your child up for youth ball, contact Cole Fischer for more information at (402) 276-1364.
The Highway-91 Cyclones also hold practices there and have games throughout the summer and fall.
The Men's Fast Pitch Tournament is another big event held at the ballfield. Area teams travel to Leigh each summer to compete in the Men's Slow Pitch Tournament that began in 1949.
Although they will never know for sure, residents of Leigh believe their fastpitch softball tournament is the longest-running tournament of its kind in the state.  The first official invitational was held in 1951 by the Leigh Fire Department, and local tournaments were held a year or two prior to that. The tournament celebrated its 70th anniversary in 2019, and in fitting tribute, the local Leigh team won.
For more information about the annual Men's Fast Pitch Softball Tournament, contact either Ben Herink at (402) 416-9096 or Cole Fischer at (402) 276-1364.
The Rick Charipar Memorial Club 91 Golf Course is an exciting course for all skill levels. With its sloping terrains, water hazards, and roughs, it can provide challenging play for even the most experienced golfers. 
Once a members only 9 hole course – the course opened to the public in 1995 and is a great course for individual golfers, families, or group outings.  Providing exceptional service for golfers and their guests, the clubhouse staff at Club 91 are experienced at hosting events of all sizes (clubhouse seating up to 100 guests). Contact the course staff to schedule a tee time or discuss planning your next group or company outing.
  1500 W Church Street, Leigh, NE 68643
The Maple Creek Dam was the result of ten years of planning and provides flood protection for the village of Leigh as well as property and land owners on the west fork of Maple Creek. It opened to the public in May 2011 The lake created by the dam is 160 acres, which are split in two parts by Highway 91. The entire recreation area covers 550 acres and includes 50 RV camping sites, trails for walking or horseback riding, picnic areas, showers and restrooms, and opportunities for hunting.  The $8.2 million project was funded by the Lower Elkhorn Natural Resources District in collaboration with the Nebraska Department of Natural Resources, the Nebraska Department of Roads, and the Nebraska Game and Parks Commission.
Maple Creek Dam has 50 fifty-amp RV camping sites and 10 primitive tent sites. They have facilities for shower houses and restrooms available for campers.
Reservations can only be made up to 30 days in advance. Camping is limited to 14 consecutive days. Minimum stay for Memorial Day, Labor Day, and other Holiday weekends is Friday, Saturday, and Sunday. All other weekends have a minimum stay of Friday and Saturday.
Camping fees for tent camping is $10 per night. All electric pads (50-amp) are $25 per night. Overflow camping in North lots is $10.
To book your next camping trip at Maple Creek Dam, go to the following website:
Near to the camping sites and right off the hiking/biking trail is a picnic area and shelter with grills. There is also a playground with a plethora of playground equipment that children of all ages can enjoy.
Circling Maple Creek Dam is a hiking/biking trail available to the public. The trails total 2.36 miles in length and have a bridge that extends across the lake. The trail also has a box culvert which allows people to walk underneath Highway 91 to get to either side of the dam. The scenic trail is made of dirt and gravel.
There are two boat ramps located at Maple Creek Dam. Maple Creek Dam has a no-wake (5 mph maximum) policy for boats. The maximum depth of the permanent pool is 30-35 feet. Maple Creek Dam also offers a sand swimming beach near the boating docks for recreational use. Swimming is prohibited anywhere besides at the swimming beach, and it is allowed only where the markers indicate.
Fish species in the Maple Creek Dam include the following: 
Bluegill

Channel Catfish

Crappie

Largemouth Bass

Northern Pike

Walleye
There are 18 camping sites with water and electric hookups located at Centennial Park. Some sites are 30 amp and others are 50 amp. It costs $20 a night with a minimum three night stay. The sites offer ample shade from well-established trees. It is a prime location to camp as it is located near to the Tri-County Lake, ballfield, swimming pool, and Club 91 golf course. Centennial Park also has a playground, shelter, and horseshoe courts along with the camping sites. To make reservations, call the city office at 402-487-3303.
Centennial Park has a playground perfect for entertaining children of all ages. The sand playground is equipped with a playhouse, swings, slides, monkey bars, a merry-go-round, teeter-totters, and more.
There is a shelter located at Centennial Park that is the perfect spot to host small gatherings or to enjoy a meal or a rest if you are spending time at the park or are camping. To make reservations to host your event at the park shelter, contact the city office at (402) 487-3303.
Centennial Park has many regulation horseshoe courts located to the north of the campsites for recreational use.
The annual Colfax County Fair is hosted every year in Leigh, NE, in late July. Each year, there are events held that all ages can enjoy. For more information about the schedule of events, consult the Colfax County Fair website provided below. 
The Colfax County Fair is unique in that it has free admission, free parking, free grandstand shows, and a free tractor pull. There are no admission charges for any event at the fair, making it affordable for everyone to come and enjoy.
Camper pads are also available at the Colfax County Fair. The fee for the duration of the fair is $75. A link to camper pad registration is available on the Colfax County Fair website provided below.
Colfax County Fair Leadership
President: Brad Bruhn
(402) 750-7329

Vice President: Kyle Dlouhy
Treasurer: Linda Cech
Secretary: Penny Janousek
(402) 750-2360
Amanda Jedlicka: Schuyler
Mike Wurdeman: Leigh
Dennis Pickhinke: Howells 
Scott Dietrich: Leigh
Chris Gall: Clarkson
Kaleb Sobota: Schuyler
Steve Wendt: Leigh
Mark Grotelueschen: Richland
Clint Jedlicka: Schuyler
Oliver Johnson: Clarkson
Craig Belina: Clarkson
Luke Lutjelusche: Schuyler
Extension Educator, Colfax Co. Extension Office, Schuyler: Stephanie Bell